Reward Card OLD
What is the Pearls Reward Card?
The Pearls Reward Card rewards you for cleaning with us. Every time you bring in your cleaning you will collect 5 pence for every £1 you spend. Once you've got enough points saved up you can treat yourself to money off on future orders. The more you spend the quicker your points will build up and in no time you will have enough points to spend with us.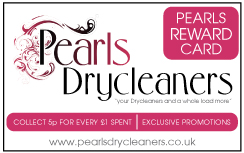 The more you clean, the more you save.
Join today from only £5 to unlock a lifetime of savings.
"Your Drycleaners and a whole load more"
Terms & Conditions
- This card remains the property of Pearls Drycleaners Ltd, which reserves the right to decline, issue or withdraw the card at any time, including these terms and conditions or any individual Pearls Reward Card account.
- Points cannot be exchanged for cash alternatives
- Pearls Drycleaners Ltd will remove Pearls Reward Card points from Pears Reward Card accounts that haven't been used for two years or have been closed.
- If your Pearls Reward Card is lost, stolen or damaged we can replace your Card and transfer your old points balance onto it. A fee of £2.50 would be applied.
- We reserve the right to change our prices at any given time.